Experienced trading straddles Should you spot consolidation, rule number one is to check to see if there
is a fundamental announcement in the near future. Many times a consolidation will appear
because the market is open 24 hours a day, and during
later afternoon trading is light. In this case, the simplest strategy is it to
continue to trade in the direction of the previous trend.
Should you spot consolidation without a fundamental announcement insight,
Alex returned to class and started off by telling us about some of the
great results he experienced trading straddles and consolidations in the
market. He told us about how he got all excited and told his wife to get
ready for dinner because they were going out on the town to celebrate.
He entered a trade during a straddle in the market and, just like clockwork,
the market took him in. He yelled at his wife, "Come on honey, pour me
some champagne, I see nothing but good times filled with wealth and prosperity taking
place tonight."
All of a sudden the market U-turned, went back into consolidation, and
started to go the other way. "I was so excited when I saw that consolidation,
all I could think about was the money I had made trading a straddle breakout, and I
forgot to do the two most important things—see if there were any
fundamental announcements and, two, put in a protective stop-loss order on
my trade," he said. Experienced trading straddles
"After about an hour, the market had moved about 60 pips against me
and I was trading two lots at the time. I realized I was $1,200 down. At that
moment, my wife came downstairs all dressed up, ready to go to dinner,
champagne bottle in hand." He said he looked at his wife, grabbed the
bottle of champagne out of her hand, took a big swig, and said, "Where do
you think you are going?" Everyone in the class burst out laughing. I guess
we have to experience pain every now and then as a reminder to pay attention to the details.
I have learned it is better to be out of a trade wishing you were in that
to be in a trade wishing you were out!
If you see a consolidation forming, always check for fundamental
announcements first to determine if you should trade in that market. If there
are no fundamental announcements, then go ahead and trade in the direction
of the current trend. If you forget to check the above two important rules,
you will probably be introduced to what is called a bull trap or a bear trap.
Experienced trading straddles/ BULL AND BEAR TRAPS
If you spot consolidation and you straddle the market without checking the
economic calendar for fundamental announcements, you will likely get
caught in a trap.
BULL TRAPS
After consolidation has formed and there are no fundamental announcements,
bull traps are false breakouts to the south out of that consolidation,
doing nothing more than fulfilling the natural numerical sequence of the
market, then U-turning back in the direction of the previous trend, moving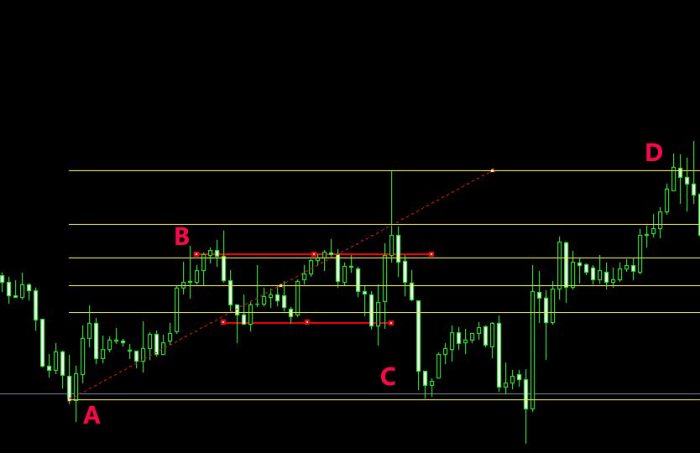 images 1
towards the Fibonacci D extension level. In other words, the market begins
to consolidate inside the natural A, B, C, D formation of a price swing.
There are no scheduled fundamental announcements, and the market is
simply following the Fibonacci numerical sequence as it slowly moves in
the direction of the previous trend
BEAR TRAPS
Bear traps are the opposite of bull traps. After consolidation has formed and
there are no fundamental announcements, bear traps are false breakouts to
the north that does nothing more than hit a Fibonacci retracement level and
then U-turn back in the direction of the previous trend, moving towards the
Fibonacci D extension
CONCLUSION
Most fundamental announcements create a dramatic change in the market.
Remember, the only thing in life that remains consistent is change. Currencies
may aggressively react to fundamental announcements or they may
GOLD /USD (One-Hour Chart)
not. Successful and educated traders respond, rather than react, to those
announcements. They are well prepared and ready to switch from being a
bull to becoming a bear at the drop of a hat. Trading on the Forex with or
without fundamental announcements can create an environment where
there are unexpected surprises, creating trading ranges of perhaps 150 to
300 pips in a single four- to five-hour trading session.
Your future depends on many things when you trade. In this market, it
depends mostly on you—your education, your emotions, and what you do
with them. Trading consolidations can be very exciting and profitable if
you know how to trade them correctly.
Hopefully, this chapter will place you in a position to take advantage of the
markets during consolidation so the market does not take advantage of you.